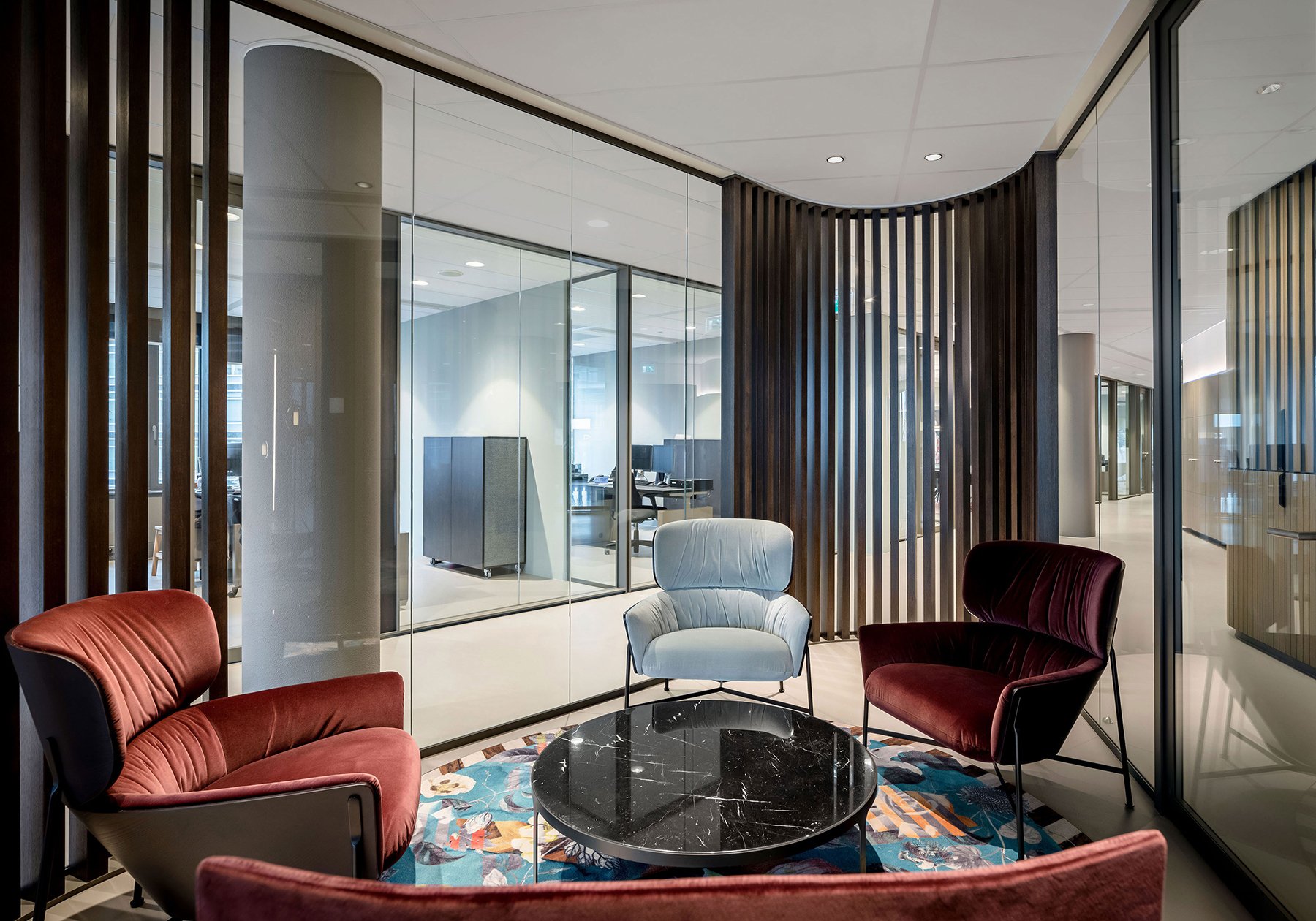 The SP01 Caristo armchair has been used to add drama and texture the meeting rooms of a corporate interior in the Netherlands.
Featured in a rust orange and ice blue velvet, the Caristo high-back armchair by Tim Rundle, adds a welcome injection of colour and comfort to a series of private meeting rooms.
The contoured timber shell and soft upholstery are cradled within a sleek steel frame, the chair's curves echoing the unusual shape of the rooms in which it's featured.
DVDW Law has traditionally worked in a typical - The Hague style - villa, close to Noordeinde. The organisation used to be split over three floor levels with each level featuring classic, room layouts. Feeling it was time for a change, DVDW Law decided to lease new premises in the Monarch Tower, in Beatrix Quarter of The Hague taking up residence in a new building designed by MVSA Architects. With offices in The Hague and Rotterdam, Casper Schwarz Architects was chosen to design the new interior concept for DVDW Law's second headquarters.
As part of the new interior design Casper Schwarz Architects decided to bring all work zones onto one level, providing connectivity among the partners and employees. On the other level, the lunch area was designed as an informal café-like space, accessible via a spiral staircase located in the corner void.
The client-dedicated area is more private, with colourful meeting rooms and its own lounge corner. The images shown were taken by Peter Baas Photography with design by Casper Schwarz Architects.
Project: DVDW Law Monarch Towers, The Hague
Location: The Netherlands
Type: Commerial
Product: Caristo High Back Arm Chair by Tim Rundle for SP01
Project: DVDW
Architect: Casper Schwarz Architects
Photographer: Peter Baas