Ever wondered who drives a brand like SP01?
SP01 has become an international success in just five years. Driven by a strong creative vision and the clever development of strategic design relationships (with a healthy dose of irreverence) the brand has made a big impact in a very short amount of time.




In the first of a series of articles about the people behind the brand we meet Matt Lorrain, the Creative Director of SP01.
A graduate in furniture design and a successful interior designer prior to co-founding the brand, Lorrain's job title may sound glamourous but the reality of his day-to-day work involves long days across multiple time zones sketching out the path for improving the brand's product offering, reputation and image. It requires constant enthusiasm and an abundance of creative ideas.
At any one time he might be found discussing a new prototype with a designer, creating the set for a photoshoot of a new collection or be in discussion with new distribution partners on the other side of the globe. "There's so many elements to bring into balance – the brand, the designers, the final pieces, and the way we present them and shoot them for the public to understand," he says.
Lorrain is aware that architecture, interiors, furniture and objects all have meaning that is not necessarily understood at a conscious level but is felt instinctively when we walk into a room or examine an object. "Much of the role of the Creative Director or any designer is to tune into this subconscious design language to be sure it's in-line with what we are trying to express," he adds.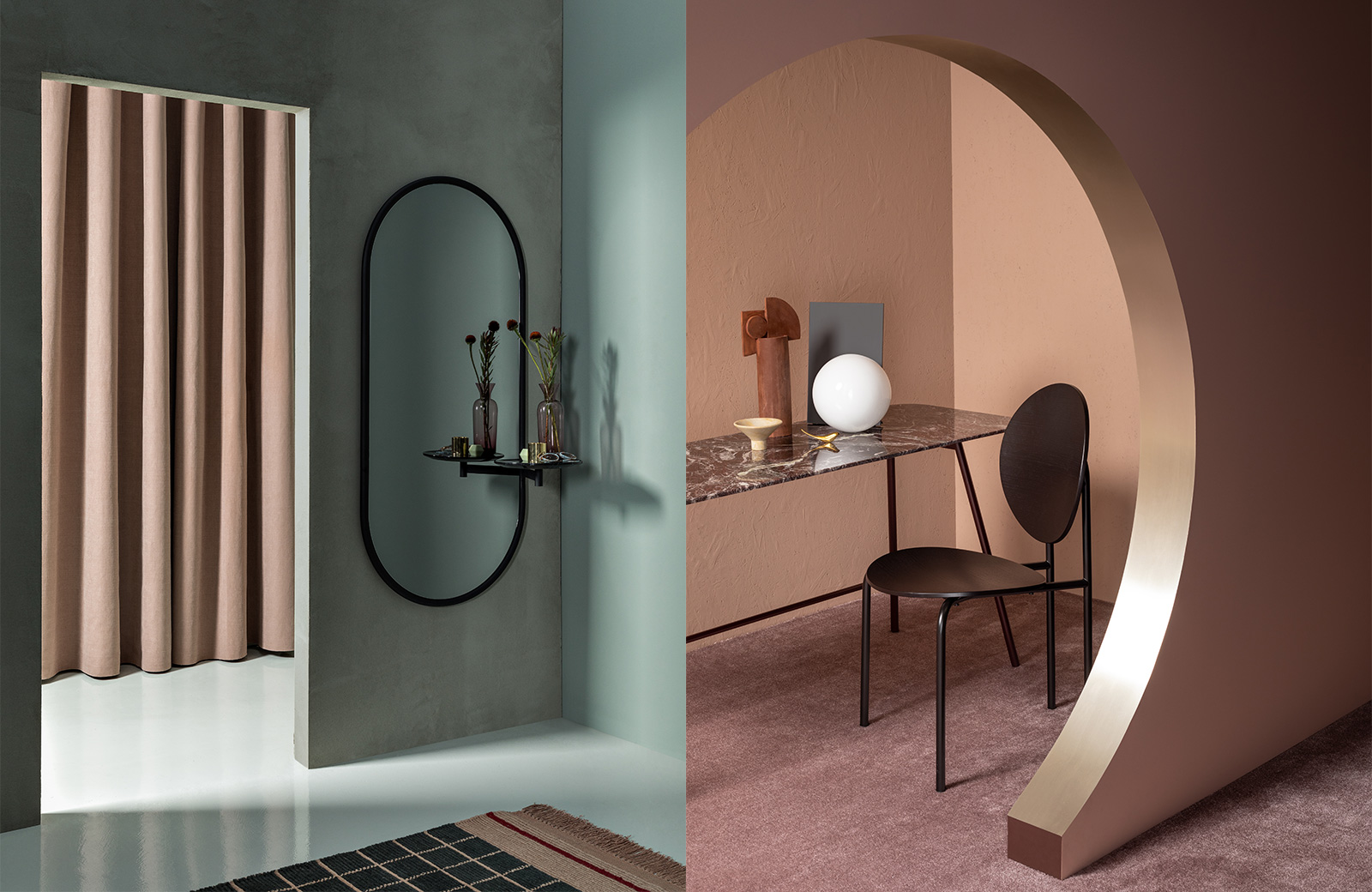 At any one time, Creative Director Matt Lorrain might be found discussing a new prototype with a designer, creating the set for a photoshoot of a new collection or be in discussion with new distribution partners on the other side of the globe.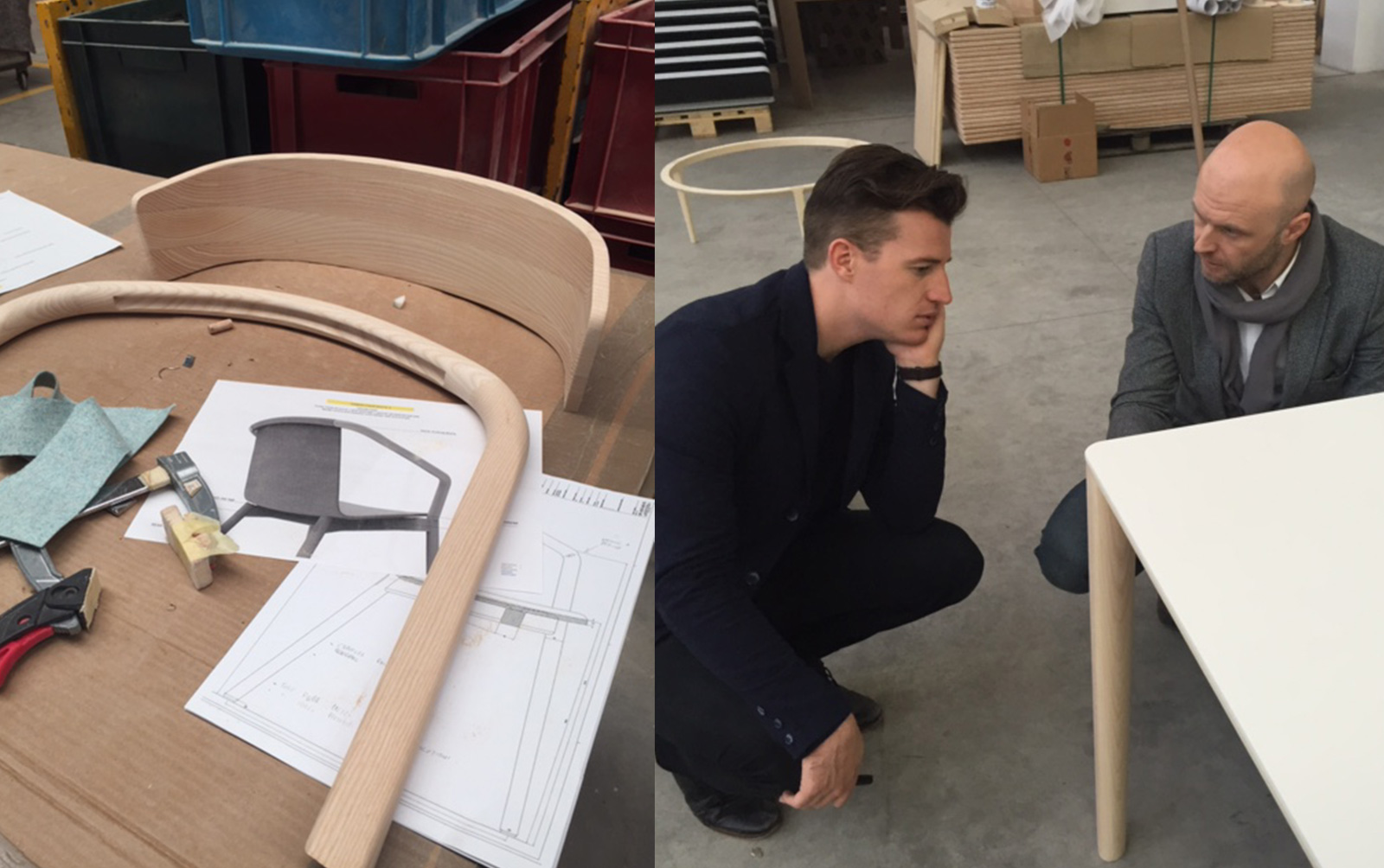 Featured above are SP01 designers Tom Fereday and Robin Rizzini.
SP01 was founded on the ambition to create a fresh new furniture brand that combined the design and brand management skills of its Australian founders with the quality and inventiveness of Italian manufacturing. Rapidly it has grown into something much bigger and more global.
The brand now has more than 60 distribution points including retail showrooms, contract dealers, online stores and regional agents around the globe, from Asia and the Asian Pacific to the US and Europe – a massive achievement in such a short timeframe. Lorrain has been instrumental in developing this network and has guided this growth while ensuring the brand's distinctly playful personality and visual identity remains firmly intact.
Lorrain cites the Milan Fair in 2019 where the brand showed in the Tortona design district as one of his proudest moments. "We had created a great vibe, with nice little vignettes featuring new product within an interior that had the faded glamour of an old disco - with music to match. Our 2017 pop-up store in New York with Ladies and Gentlemen Studio as part of NYC x Design was also really special and it made me realise how many people were really interested in what we were doing".
To Lorrain the brand's progress is something of a moving target. Each time a goal, that once seemed like a pipe dream, actually happens it raises the question of 'what's next?' and pushes him and the whole SP01 team to establish new, audacious ambitions. The first time the brand was covered by Wallpaper was one of those moments.
"To go from reading the magazine for many years to seeing our product featured on its pages was really mind-blowing" says Lorrain. "Achieving recognition can sometimes come as a total surprise like hearing our Caristo armchairs had been specified throughout the new Apple HQ in NYC, or when I found myself sitting in an expansive and very beautifully designed hotel bar in Germany among a mixture of pieces by SP01, BB Italia, Fritz Hansen and other "heritage" brands. I knew at that moment that we had arrived"
Matt Lorrain, Creative Director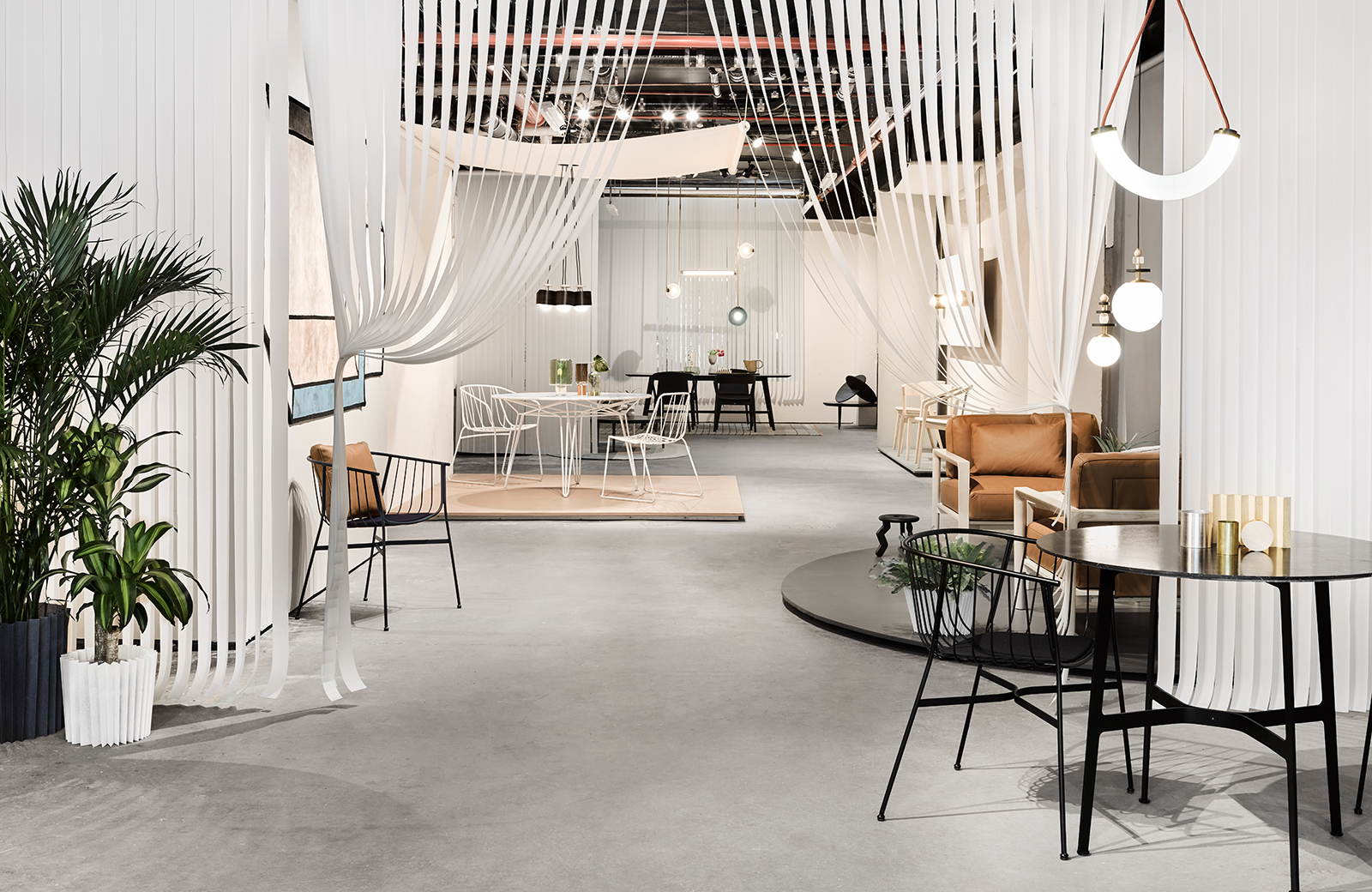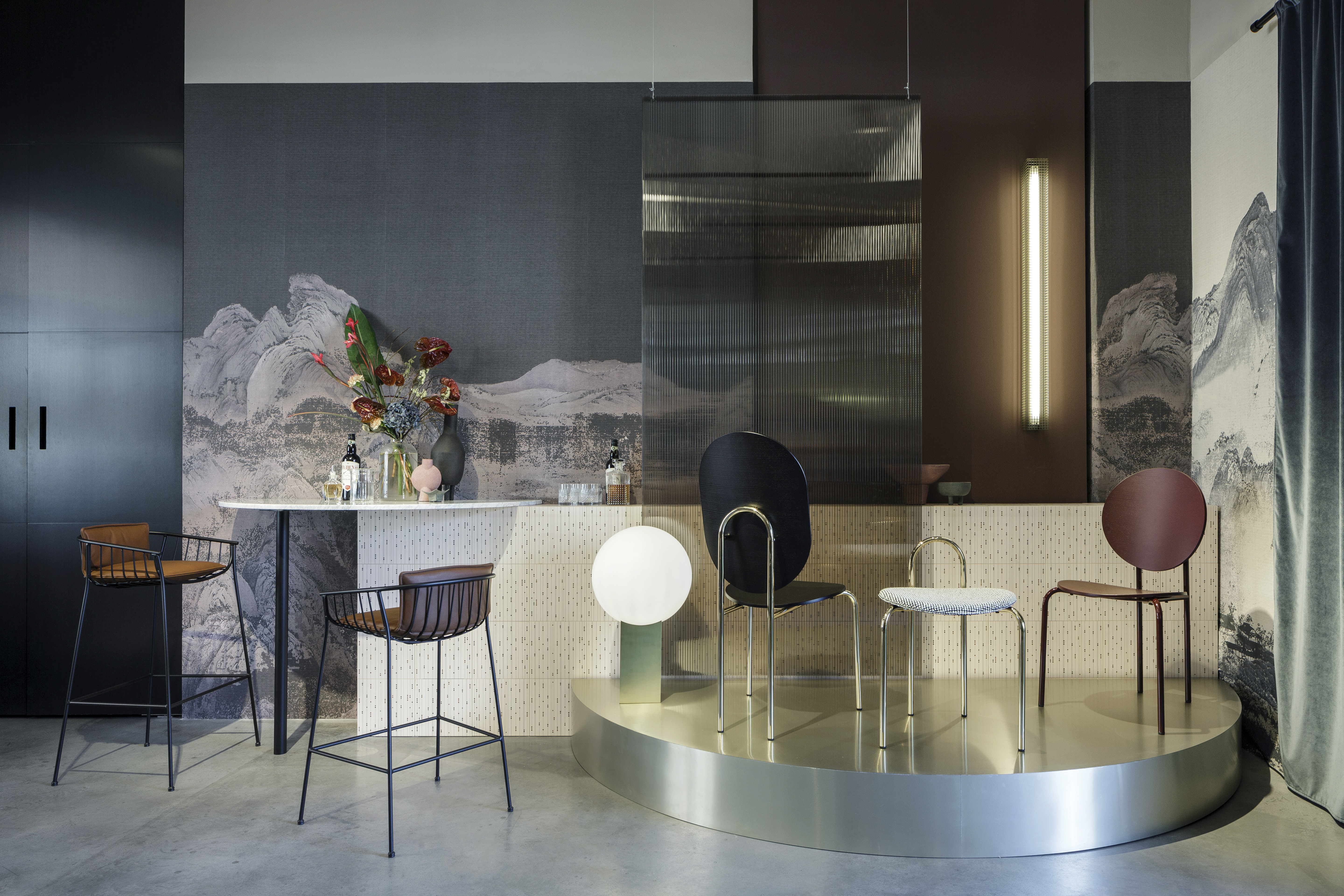 Lorrain cites the 2017 Pop up in NYC and Milan Fair installation in 2019 where the brand showed in the Tortona design district as one of his proudest moments.
Lorrain admits that working while in the midst of a global pandemic for the last eighteen months has been difficult. With no possibility of launching new collections at international furniture fairs in 2020 and 2021 and no ability to travel to prototype and develop the products in person, what was once a very hands-on role as Creative Director has become virtual. While this has called for a change in approach it certainly hasn't slowed down the brand 's momentum with a large number of new collaborations in the works for 2022.
"I'm excited about the new rug collection that I've designed and are producing with the amazing rug specialists CC -Tapis" says Lorrain. There is also a beautiful new sofa emerging through a collaboration with cult Milanese designers Studio Pepe.
Australian brand Made in Italy has long been the catch phrase of SP01 with its mix of design Italian design talent (Metrica) and Australia (Tom Fereday and Nikolai Kotlarczyk) combined with Italian manufacturing. Recently however, the brand has shifted the balance a little with successful collections by UK based Tim Rundle and an even newer collection that will, for the first time, be made in Australia. In fact, the new collection is possibly as Aussie as a collection can be, with Lorrain working with surfboard-shaping innovator Hayden Cox of Hayden Shapes.
"Our stable of designers is a mixture of strategy and the people we happen to meet," says Lorrain. "We consciously have a mixture of designers from both hemispheres because it helps to articulate our aspirations as a brand. I met Tim Rundle in Milan a few years back via a mutual connection with Tom Dixon. Tom Fereday was once an up-and-coming designer who won a design competition with our parent company SPACE and Metrica were introduced to us by Casper Vissers, the founder of Moooi."
After so many years in the industry Lorrain has connections far and wide and is devoted to exploring the possibilities of new collaborations with designers and manufacturers and retail and contract partners. He really enjoys watching new forms and styles emerge and working out the appropriate way of steering the SP01 ship through these changing trends. Perhaps because of his work as an interior designer Lorrain is intensely aware of the big picture rather than being bogged down in the individual looks or design details. He wants the brand's products to work beautifully together while consistently pushing creative boundaries.
Asked if he could summarise the SP01 brand Lorrain responded with his usual assertiveness. "For me it's quite simple - SP01 is an Australian brand with an international perspective".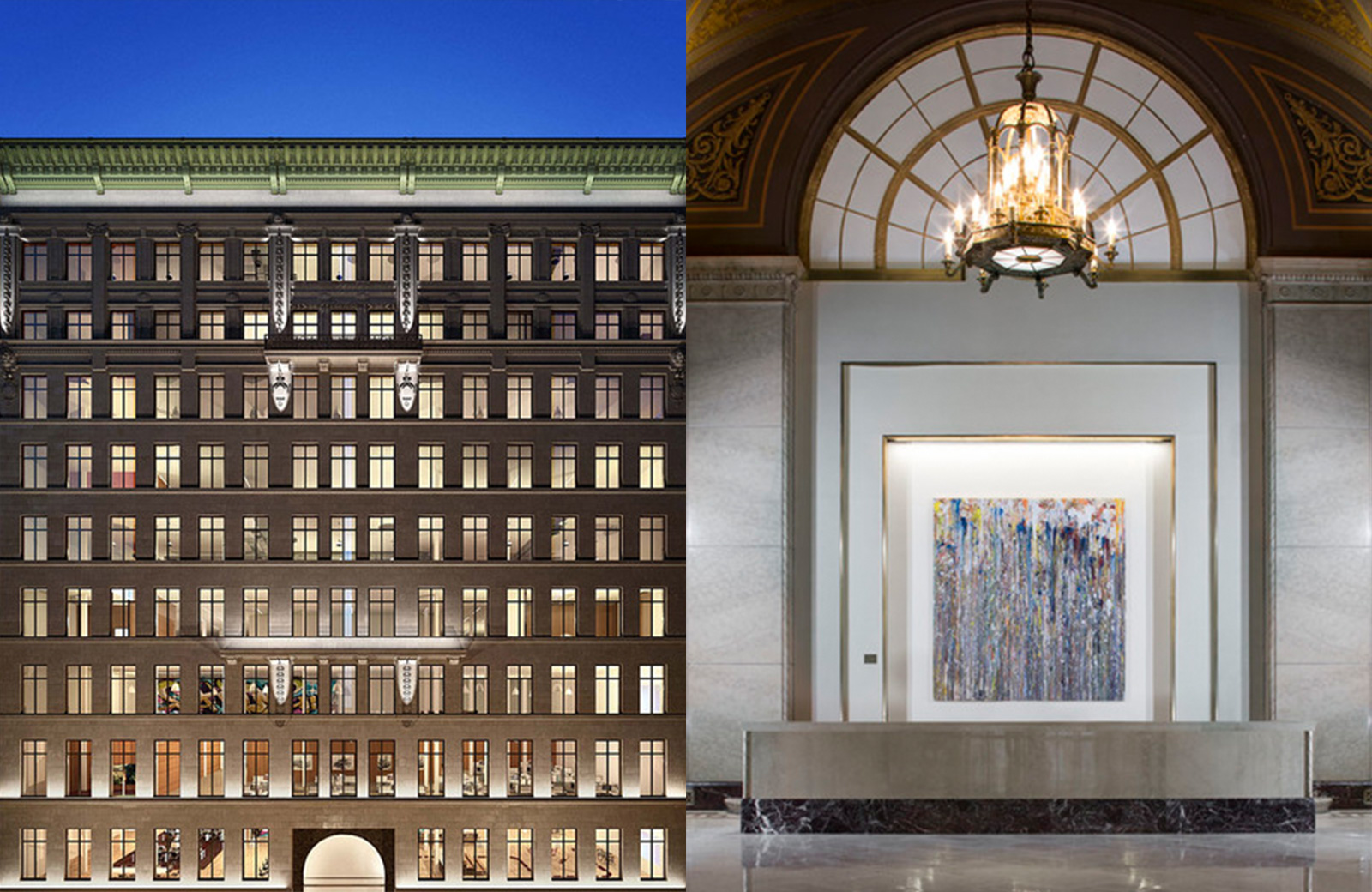 11 Penn NYC, where SP01 Caristo chairs will be featured in the new Apple HQ
Stay tuned for more upcoming stories on the creative team behind SP01.